Episode 3: The Race 24H OF SPA-FRANCORCHAMPS
ART CAR BY JEAN BOGHOSSIAN
Join us for this 24 hours Event
The project ArtCars by Jean Boghossian is a unique opportunity for the lovers of luxury cars, vintage cars and/or racing cars to experience a moment of intense thrills on one of the most legendary motorsport tracks, voted as the best by drivers from all over the world.
Live a unique experience in an exceptional set at the heart of the event by buying
a Pass VIP - Bentley Continental GT3 by Jean Boghossian.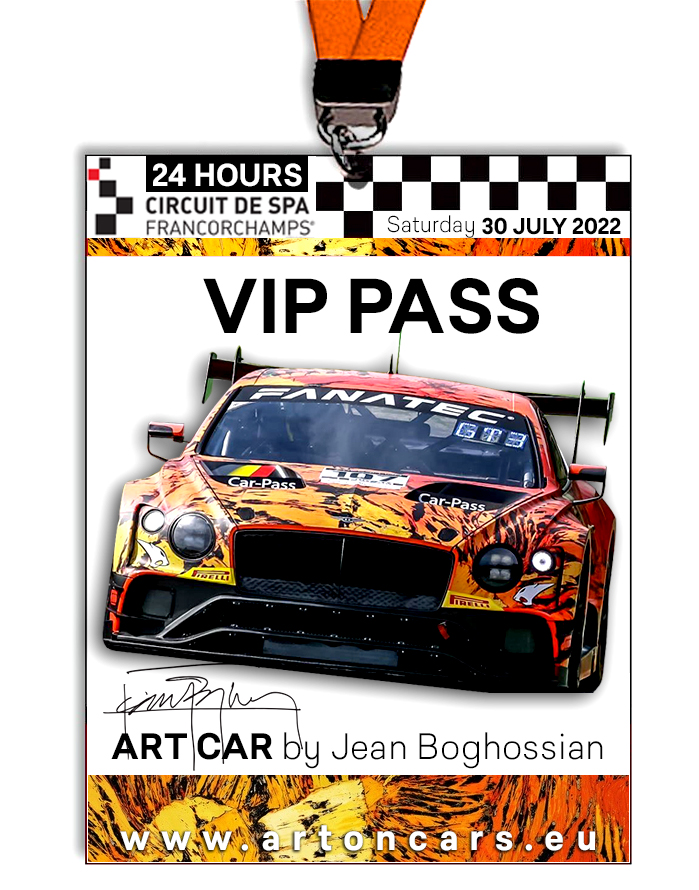 Private car park & VIP Shuttle
Personalized welcome with open bar and view over the pits, the Chicane and the corner of Blanchimont.
Arrival on Saturday between 10am and noon
Exclusive access to the phygital collection Art Cars by Jean Boghossian
Lunch & Dinner : 13h00 & 20h00
Access to the paddock and the box of the Bentley Team
Exclusive moments with the pilots : before the start of the race and at lunchtime,
Visit of the Bentley box during a pit stop


Take part in this exceptional high-end sporting show to the benefit of a good cause and make a difference in the life of people with disabilities.

By buying the Pass VIP - Bentley Continental GT3 by Jean Boghossian, you are contributing to support the Belgian charity YourGT, whose mission is to increase the practice of sports in rehabilitation centers for persons with disabilities and to promote their integration through sports.

Next 30th of July, you will not only enjoy a truly unique experience, but you will also offer the same opportunity to 50 people with disabilities to attend the 24-hour of Spa.